We are a growing, continuously developing company in the diving sector and in tourism. Mainly, we consider ourselves a service provider and partner. A good staff, many national and international contacts with companies, tour operators, diving centers and diving associations, as well as working together on our aims, have been helping us to meet the steadily changing challenges of this sector for years.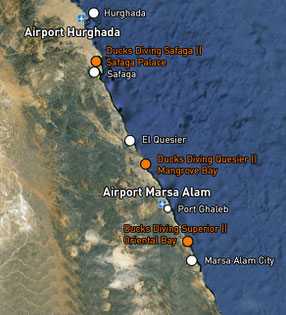 We and the environment
'All life is descended from sea. Also human being. Nothing seems more important to me today than that our technologic development rebalances with the diversity of all remaining life.' * Professor Dr.Hans Hass (Wien 2003)
Right from the beginning, DUCKS has been actively involved in environmental projects. Thus, we rate among the first members of the HEPCA (Hurghada Environmental Protection & Conservation Association), the most important environmental organization on the Red Sea. With endurance, commitment and ideas, we try to communicate the subject of "environment" to our staff and our guests every day.
1991
1993
1994
1995
1996
1996/
1997
1998
2003
2004
2005
2006
2007
2008
2009
2011
Opening of a diving center at 'Shams Hotel' in Safaga.
Closure of DUCKS DIVING at 'Shams Hotel'/ Safaga. 

Reopening at 'Cleopatra Hotel' / Safaga.
At the same time, OFT-journeys transfers the management of their diving center at 'Magawish Hotel' / Hurghada to Robert & Lydia Furtner.
Successful hosting of the Federal Youth Meeting of the VDST (German Scuba Diving Association) with far more than 200 participants and 1000 dives at 'Magawish Hotel'/ Hurghada.

Removal of the diving center from 'Cleopatra Hotel' / Safaga to the newly opened up 'Holiday Inn Resort' / Safaga.
Business transfer of the diving center to the new hotel keeper of 'Magawish Hotel' / Hurghada.
Opening of a further diving center DUCKS DIVING at the hotel 'MangroveBay' / Quseir, a hotel resort in Egypt's at that time scarcely subdued south
For several terrorist attacks having occurred in Egypt, dire straits came to DUCKS DIVING. Despite everything, the diving centers stayed in operation for our loyal customers.
Beneath DUCKS DIVING, the successful reconstruction and afterwards several years long management of the diving center at the first ROBINSON CLUB in Egypt begins
In the firm belief of innovative developments, DUCKS DIVING gets involved in the NITROX FOR FREE program assuming NRC as partner. 
Takeover of the snorkeling center in 'Holiday Inn Resort'/ Safaga and foundation of DUCKS AQUAFUN.
Specialization in working with physically disabled divers. Education of our instructors in accordance with the regulations of HSA.
(= HANDICAPPED SCUBA ASSOCIATION)
Adoption of a new way of diving, mixed gas and rebreather diving.
DUCKS DIVING faces new challenges and opens a service point for liveaboards on the Red Sea called "DUCKS MARINA".
Planning a new Holiday & Dive Resorts on the Philippines
DUCKS DIVING in Egypt is one of the first diving centers with an ISO certification.
In April, opening of the new diving center DUCKS DIVING Romblon on the Philippinen, including the Three P - Holiday & Dive Resort.
Opening of the new dive center DUCKS DIVING SUPERIOR in Marsa Alam, close to the Hotel Oriental Bay